December 31st, 2020. In some ways, it's hard to believe that I've already reached the end of this year. In others, it seemed like this year would never end. Although 2020 definitely didn't end up looking anything like what I had planned, there have been so memorable moments. And so, as is my tradition, here's a look back at the last 12 months of my life.
The first few months of the year looked pretty standard, for those that have read previous iterations of these posts. I kept busy with work throughout most of January and February, along with my usual volunteering at church, and hanging out with friends for birthday parties, SuperBowl parties, and various small-group-related activities.
To keep things interesting, in mid-February my sister and I also started a podcast: Sibling Summit. We had kicked around the idea of a podcast off and on for years, but never actually moved on the idea until this year. Due to our schedules, we opted to only record twice a month, and intentionally recorded a week or more in advance of each post so that I would have time to edit the show down to the published form at my leisure. It provided a fun, creative outlet for both of us, and while it was time-consuming, we enjoyed it.
In early March, I was preparing to visit my sister for a weekend of hiking, when the entire world came to a standstill. I still recall some of my thought processes during that time, debating whether to go ahead with the trip or not. I made the decision to postpone the trip and remain at home, figuring that there would be a better time over the summer. Then came the news that my state, like many other states and countries around the world, was taking precautions to limit the spread of SARS-CoV-2, and everything changed.
Okay, that's perhaps a bit overly dramatic. While it's true that many things changed, my actual schedule was perhaps not changed nearly as much as some, for which I'm grateful. In mid-March my workplace moved (like many others) to limit the number of individuals in the building, and I switched to working predominantly from home, with the occasional trip to the office when I needed something not already at home, or to assist in testing that could not be done remotely. Meetings transitioned to Zoom (both work and church-related), and much of my time was now spent in my home office, which thankfully was already somewhat set up for work and video conferencing.
Since we wouldn't be traveling to see each other as much as we would under normal circumstances, and to keep in touch while maintaining a fun atmosphere, my family and I began playing Name That Tune remotely over Zoom on a weekly basis. I detailed my setup in a blog post, for those that are interested in a deep-dive on the game and how we play.
Another thing that both my sister and I started during the initial lockdown period was a blogging challenge: 100 Days To Offload. We both opted to post for 100 days in a row, and while the quality of the posts began to suffer after awhile, it was fun, and gave me a constant challenge. You can find an archive of my posts here.
And that was pretty much the story until June. During those three months at home I essentially only left my house for the occasional work or shopping-related activity, as needed. I occasionally augmented my work from home setup with new computer peripherals, and also probably more books than I will have time to read. My sister and I continued to record our podcast, which began to include an update on how the pandemic was affecting each of our lives.
In early June we began to work some more from the office. And so, whereas before my work was probably 80% at home, 20% in the office, things gradually shifted until it was probably the inverse, or close to it. That would continue on until early August, when a local spike in cases sent most of us back to a predominantly work-from-home plan.
June also saw the indefinite hiatus of my sister and I's podcast. She was traveling back and forth to our hometown more, in preparation for an eventual move back, and so our schedules did not allow as much time for recording. We have talked about revisiting the podcast in 2021, but only time will tell if that works out.
In early July, I finally took time off to visit my family. After spending so much time at home, and not really driving anywhere except to the local supermarket and to work when needed, it felt very odd to travel a few hours away to visit family. I was very thankful for the opportunity to visit though.
After returning to work-from-home in August, not much has changed on the work front. Since it looked like that setup would not be changing in the foreseeable future, in early September I purchased a standing desk from VariDesk, and set up a more permanent home workstation in my basement. I've continued to occasionally augment my home setup with more peripherals as needed, though by this point not much is changing.
In August I also returned to volunteering at church (which had been limited due to lockdowns). Whereas in the pre-pandemic world I was volunteering on a weekly or every-other-week schedule, I backed off some to once or twice a month max for a period of time. I was (and am) still getting accustomed to my new schedule, and I've found that I am more mentally relaxed when I am able to take a majority of weekends off and just work around my house.
That brings me all the way to October. In mid-October, as I often do, I headed back to my hometown to visit family, and help out some with farming. This year I took along my GH5, and got a couple of nice shots of the harvest experience while I was there (below). I also got an opportunity to see some extended family that was visiting at the same time, and good food and fellowship were enjoyed by all.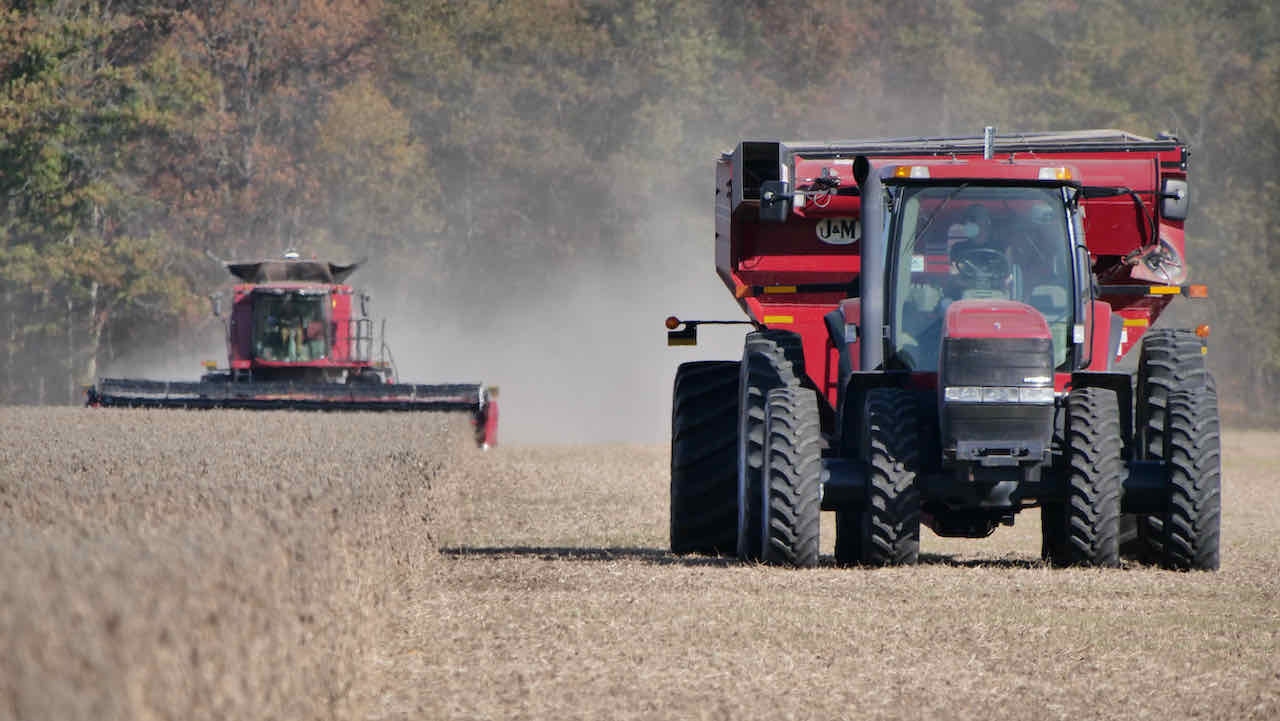 After returning home, I refocused on work pretty heavily leading up to Thanksgiving. The end of October/early November saw a rise in local COVID-19 cases once again, which gave me an excuse to spend a large amount of time catching up on projects that had gotten behind. I also took some time over a free weekend in November to migrate my blog from Wordpress to Hugo, and remove Google analytics from my website.
At the end of November I spent a week visiting family for Thanksgiving, and enjoying some time off, and the change of scenery. We spent the time working on projects at my parents' house, playing games, and (as always) enjoying food. While there, we also had family pictures taken by my cousin Rachel (Kharis Photography), who was also visiting her family for the holidays.
In the intervening three weeks between Thanksgiving and Christmas I once again kept busy with work (from my basement setup), with the occasional break to shop for Christmas gifts for family. Then it was once again back to visit family for Christmas, and to celebrate my parents' 34th wedding anniversary! Thankfully the weather was relatively nice for the trip, and I even had a chance to go for a walk outside on the 27th without feeling overly cold.
And that brings me to the end of the year! As the final hours of 2020 wind to an end, I can look back at this year, and be grateful to God for the opportunities I had to spend time with my family. The year may not have looked like anything I would have expected, but I can be thankful that I still have a job, and that my family and I are still healthy!
Happy New Year!